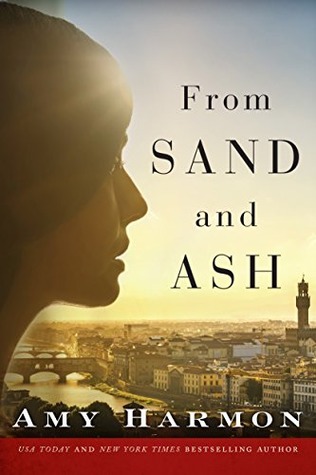 I've had incredibly good luck with Lake Union Publishing. There aren't many publishers I'll autobuy from, but the quality of their historical fiction has always been excellent: a fun blend of romance and historical details, with very good quality writing. Amy Harmon's writing has always been great, even if her stories can be hit or miss, and the fact that Lake Union decided to take a chance on this work of hers was a mark in her favor. Plus, it's WWII-era fiction, an old favorite. How could I resist?
As far as Harmon's body of work goes, FROM SAND AND ASH is definitely a hit. Eva/Batsheva is an Italian Jew living in Italy during WWII. Angelo is an Italian-American living in Italy with Eva and her father. He is missing a leg and has decided to become a priest at the urging of his rather disinterested father. FROM SAND AND ASH is about the forbidden romance between them, set against the backdrop of war, heroism and cowardice as they try to keep themselves and their families alive despite the callous and industrialized cruelty of the Nazi officers.
I liked FROM SAND AND ASH a lot. As with most of Harmon's works, it takes a while to get into and the romance is very slow burn. I liked the details about both every day life, and the war. It was interesting to learn about how the Catholic clergy helped shelter and rescue Jewish refugees. That's something I find interesting about books about war - you get to see snapshots of humanity at its best, and also at its worst. As brave as Eva and Angelo were, there were people who were much less selfless, and much more opportunistic. The stakes were both clear and compelling.
If you like WWII era books, I think this is a good one to add to the list. It has an HEA and seems well researched. The writing is also really lovely and the characters are compelling. Fans of books like THE BRONZE HORSEMAN will probably adore FROM SAND AND ASH.
3.5 to 4 out of 5 stars