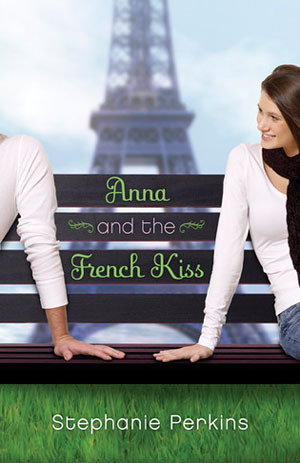 Do you enjoy books about cheating? Do you like heroines who are so stupid that they literally spend a week
starving
in their boarding school
because they are too stupid to order food from a
cafeteria
? Do you like heroes whose big romantic confessions literally involve the phrase "I cheated on her every day"?
Then this is the book for YOU!
It's been a while since I read a YA book that I hated
so much
. I think the last one was Molly McAdams's
SHARING YOU
, a book about some selfish trash people who decide to carry on an extramarital affair because the wife is such a bitchly, she totes has it coming, you guys. ANNA AND THE FRENCH KISS is the PG-13 version of SHARING YOU. Teenage trash people, Etienne and Anna, end up connecting immediately and succumbing to their attraction to one another... despite the fact that he has a girlfriend.
I am so tired of these books that make apologies for cheaters. In a relationship and in love with someone else? End the first relationship
first
and then move on. Don't string both women along and run to the woman you
don't
like when you want sex so you can keep the woman you
do
like pure, and then later confess that you "cheated on your girlfriend every day" in your mind with this new trash person, and try to make it sound
romantic
. And especially don't try to make it all about you by saying that you're just
afraid to be alone
. Because you know what that makes you? A trash person.
And don't even get me started about ANNA. Freaking ANNA. She is the biggest trash person on Mount Trashmore. The face that launched a thousand trash ships. Anna - who doesn't know she's beautiful. Anna - who gets sent to a cool school in Paris and immediately starts
whining
about how much she hates it there. Anna - who is so stupid that she doesn't even attempt to order from her boarding school's cafeteria in English and literally
starves
unless someone isn't there to order for her. Anna - who doesn't know a word of French,is resentful about learning French, and basically pictures the entire country as a beret-wearing, Amelie-watching population. Anna - who puts a Canadian flag patch on her backpack because she doesn't want people thinking she's
American
. Anna - who is
shocked
that French people watch English-speaking movies, too! Anna - who orders a coffee from McDonald's and is
shocked
that it doesn't taste like French espresso! Anna - who the moment she gets home to precious Atlanta, immediately starts whining about
how much she misses France
.
Anna - the stupidest person on earth.
As if the cheating weren't enough, this is a codependent relationship written in the style of TWILIGHT. Anna is a pathetic, helpless heroine who needs a boy to save her from scary France. He uses her, too, to cope with his emotional issues - because he doesn't want to be
alone
- while resolving all the (ahem) physical ones with his girlfriend of one and a half years. The difference is, Edward didn't cheat. Etienne
dreams
of being Edward. Edward was not a perfect hero by any means, but with him I could see the appeal. With Etienne, I am side-eying all the people saying how cute and fluffy this book is and thinking, "What? This dysfunction?" And say what you like about Bella, especially in New Moon, but at least she didn't cheat with another girl's boyfriend and then start sobbing about how "she didn't mean it! she didn't know what happened!" when caught with her tongue in his mouth. Bella did not cheat, and Bella was not an idiot. She would certainly know who Emile Zola was, and wouldn't call
him
"Emily Zola"; the greatest female author you've never heard of. Given the choice between this and TWILIGHT, TWILIGHT would win, every time.
1 out of 5 stars