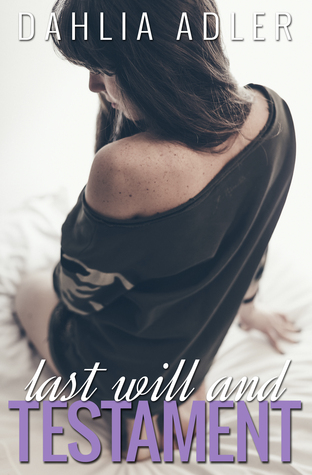 What were you like at eighteen? I was in my first year of college, and apart from academia, wasn't even close to having my adult game together. Neither is Lizzie Brandt, ex-valedictorian and scholarship student turned party girl. In fact, she's busy sleeping with another girl's boyfriend on the night she finds out that her parents are dead and she's been made her brothers' guardian.
We read OUT ON GOOD BEHAVIOR in the wonderful
Unapologetic Romance Reader
group for Pride Month. I'd heard wonderful things about Dahlia Adler, so participation was a no-brainer. Sadly,
I didn't like the book
- at all. Not because of the writing, which was excellent, or the sex scenes, which were well done. No, my dislike of the book was entirely because of the main character, Frankie "Can't Keep It In Her Pants" Bellisario, who is the embodiment of every negative stereotype of pansexuality there is.
I wanted to give this author another shot, though, because I
did
like her writing style, and managed to snag a copy of LAST WILL AND TESTAMENT when it was on sale to buddy-read with my good friend,
Sarah
. From the first page, I knew that this was going to be a totally different story. Lizzie is no Frankie. She's not selfish, she's not sex-obsessed, she's not a serial-cheater who leaves a trail of bruised and broken hearts in her wake. She's a young girl who makes foolish decisions because she's scared of the future, but she gets her shit in gear when fate deals her a heaping plate of responsibility.
One of the things I liked best about this book was Lizzie's relationship with her two younger brothers, Tyler and Max. Sometimes younger siblings can feel like comic reliefs or plot devices, but Max and Tyler had their own personalities and desires that sometimes came into conflict with Lizzie's, but despite their arguments, you really got a sense for the love they shared and their desire to be happy together, in spite of their terrible, terrible tragedy.
That was another thing that I thought was handled incredibly well - Lizzie's grief and her sense of loss. I kept tearing up, because it was so easy to project myself into her shoes and ask myself, "What if this happened to me?" Given the fact that her whole support group has just disappeared, it makes sense that she would grow attached to the closest thing she has to a mentor/nuturer in her life, her tutor-slash-TA, the nerdily gorgeous, Canadian-born Connor Lawson.
Connor and Lizzie are cute together, except when they're fighting and then I want to put them both in the corner and have them think about what they're doing. Unlike most NA book arguments however, I felt like Connor and Lizzie actually raised valid points when they fought, and it was interesting to see how the relationship continued despite the obvious conflict of interest and Lizzie's mourning.
Also, props to Sophie for being the craziest b-word that ever inhabited the e-word. She is Queen Cray-Cray, and all should bow down to her for being the crazy piece of work that she is.
Am I going to read the next book? Oh yeah!
3.5 to 4 out of 5 stars!