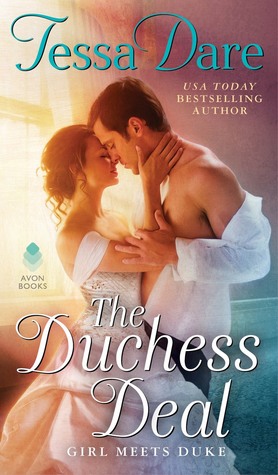 🌟 I read this for the Yule Bingo Challenge, for the category of
Luna: lovable sidekick
. For more info on this challenge,
click here
. 🌟
THE DUCHESS DEAL was
my romance group
's book of the month for November, and I am only now just getting around to it because people are jerks and don't return their library books on time. I figured it would be a two-birds-one-stone type of affair: belatedly finish our group read and also knock out a category on that Yule Challenge.
Here's the thing. I don't normally like fluffy romance novels. You say the word "fluff," and unless you're talking about a cat or marshmallow cream in a jar,
I flee in the other direction
. But THE DUCHESS DEAL is actually...cute? And genuinely hilarious? I actually lol'd at a few of the lines. It's so ridiculous and over-the-top, like Lisa Kleypas and Gail Carriger decided to have a slightly mad tea party and guzzled rose tea and macarons while dinking around on a typewriter. It's cute and silly and it works, even if it is slightly mad.
Emma is a seamstress and her latest work - a wedding dress - has gone unpaid, and her letters demanding said payment have gone unanswered. She decides that the best course of action is to wear the wedding dress to the house of the Duke she wants payment for, because, you know, visual aids.
The Duke of Ashbury was forced to call off his engagement because his wife-to-be found his facial and bodily scars so disgusting that she literally became ill at the prospect of their wedding night. However, he wants an heir - partially to spite the relatives he hates and deny them the pleasure of inheritance - and when Emma comes altar-ready to his doorstep and seems less than repulsed by his imposing visage, a rather unconventional idea forms in his head.
They work out a deal: he will marry her, and by day she can do whatever she wants as long as she sleeps with him every night - at least until she gets pregnant. Then he'll move her off to his summer estate and they never have to see one another again. It all works out: Ash gets his heir, and Emma has the means to save a friend of hers who had a child out of wedlock.
Neither of them expect to end up falling for one another.
I
know
this plot is cliche and a little over-the-top. Beauty and the beast retellings are available in spades - and yet, few of them manage to balance the gruff and yet vulnerable personality that is characteristic of the beast without making him seem like a total nerf-wad. Ash is a jerk, and sometimes he is an annoying jerk, but I never felt like he was a totally bad person. Later on in the book, it becomes just how badly he was hurt, and how much of his nasty exterior is purely defensive, much like a porcupine's quills.
Emma walks a fine line between genuinely quirky and twee, but ultimately I found her more amusing than anything else. I thought her passion for dress-making was great (so many romance heroines have zero hobbies). I thought the nicknames she came up with to annoy the Duke were hilarious ("Twinkles", "Bunnykins" - LOL). She also has a rather lovely array of friends.
Which brings us back to the point of this exercise - the Yule Challenge, which is unarguably biased in favor of fluffy books. I decided to use THE DUCHESS DEAL to fulfill the "Luna" category for lovable sidekicks because this book has them in spades: whether it's a brattily precocious young man named Trevor, a snarky Butler named Khan, a contrary cat named Breeches, three eccentric ladies named Alexandra, Nicola, and Penny, or a goat named Marigold, Tessa Dare has you covered.
This is my first Tessa Dare book and it won't be the last. Anything that makes me smile this much gets three stars, no matter how silly it is. Honestly, this was just the breath of flowery air I needed after a visit to Bodice Ripper Town. I can't wait to read the next book in this series!
3 to 3.5 out of 5 stars