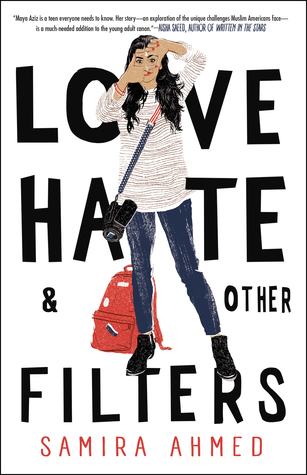 LOVE, HATE & OTHER FILTERS seems to be being billed as the Muslim version of Angie Thomas's THE HATE U GIVE. Superficially, they have similar plots: both feature young women of color who, while firmly entrenched within their respective culture, struggle with balancing the "American" part of their heritage when faced with so many contradictions. Also in both books, the girls must reconcile their identities with a racially-geared tragedy, and deal with the ensuing onslaught of hate and bigotry that ensues.
The problem with this comparison is that THE HATE U GIVE is a much better book. It's raw, angry, passionate, and politically charged - daring in a way that LOVE, HATE & OTHER FILTERS is not. That isn't to say that LOVE, HATE & OTHER FILTERS is a bad book - it isn't - but it isn't as moving or as powerful as THE HATE U GIVE. To say it bluntly: I can easily see THE HATE U GIVE being taught in schools as a modern classic, like Laurie Halse Anderson's SPEAK, or Sandra Cisnero's THE HOUSE ON MANGO STREET. I can't say the same for LOVE, HATE & OTHER FILTERS.
Setting such unfair comparisons aside, though, this is a very good book - and it's an #OwnVoices book to boot. The story is about seventeen-year-old Maya Aziz, a Muslim Indian born to immigrant parents who resides in Batavia, Illinois. She has dreams of dating and kissing boys, and wants to pursue her interest in photography and movies by studying film in New York. Her parents are very strict, however, and want her to stay closer to home, in a more traditional profession, like being a lawyer.
Maya has friends, and has crushes on two very different boys over the course of the novel. She loves her parents, but also chafes at their more traditional outlook. It seems like it's going to be a typical coming-of-age story, as viewed through and Indian and a Muslim lens, but then tragedy strikes, and Maya and her family find themselves thrown into the spotlight when a building in Chicago is bombed by a terrorist, and one of the 'suspects' has the same last name as Maya and her family.
There are many wonderful aspects to this book. I really enjoyed how central Maya's culture is to the book, and how much of a focus her burgeoning identity as not just a young woman but also an artist and a Musliam American-Indian plays in the story. There are the expected references to Bollywood and
daal
, but the book also covers tradition, dating, arranged marriage, education, family, love, and disappointment. The book also deals with bigotry and Islamophobia, and interwoven with Maya's narrative is that of the bomber himself.
I honestly thought this latter portion was the most interesting, because of what wasn't said. It's very subtle, but if you watch the news, you'll pick up on it quickly. All too often, crimes committed by people of color, particularly those of Middle Eastern decent, are labeled as acts of terrorism - and yet, when the perpetrator is white, some news outlets are far more likely to drop the "terrorist" label and instead lament about what must have happened to turn the person down the path of destruction, replete with sad interviews and childhood portraits. It was painful to read these parts, because they are a sad reflection of what happens in every day life, and this was the part that, to me, felt most similar to THE HATE U GIVE because it forces the reader to confront uncomfortable truths.
I really enjoyed LOVE, HATE & OTHER FILTERS. It's so wonderful to see more #OwnVoices YA coming out - and so many of them are very good. This one is very good and I look forward to seeing what my friends make of it when it comes out next month.
Thanks to Netgalley/the publisher for the review copy!
3.5 to 4 out of 5 stars