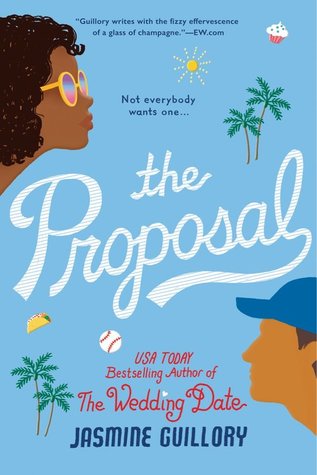 This book took me a long time to read - not because it was
bad
, but because it was so sweet and fluffy that I couldn't really stomach finishing it all in a single session. THE PROPOSAL would nearly be saccharine if not for the fact that it tackles some pretty relevant issues for women and features a very large and diverse cast of relatable characters with relatable problems. Reading it kind of made me feel like I was experiencing a book written by an extremely woke Meg Cabot; it's got that same bubbly vibe, but one that exists outside of the pumpkin spice latte basic AF white girl sphere.
Our heroine, Nikole, is dating a fratty douchebag actor named Fisher. He doesn't take her very seriously, and you just
know
he's the type of guy who would drop a "not all men" into conversation. The relationship is in its infancy and not particularly good, so Nikole is as shocked as anyone when he suddenly proposes to her on the JumboTron at the baseball game he dragged her to after just a few months of dating. Obviously, she turns him down. Obviously, this country being what it is, the crowd turns on her - a woman of color, turning down an attractive white man - and just when things are about to get ugly, Carlos Ibarra and his sister, Angela, decide to save her from the crowd.
Carlos, the hero, is a Latinx pediatrician (swoon) with a huge family and a fondness for cooking. He's gentlemanly but not chauvanistic; living in a family filled with strong women has taught him how to be respectful without overstepping his bounds, and he's smart enough to listen to what the women around him want and try to do that to show he cares. He's immediately attracted to Nikole, and is super supportive of her when her rejection of him goes viral and basically becomes a meme. This support blossoms into friendship when they realize that they actually have a lot in common, and eventually that friendship turns into something sexual when they can't deny their mutual attraction.
I liked this book a lot. Carlos's family was awesome - his sister, his cousin, his mom, his aunt: they were all great. I liked that he was also vulnerable; his sorrow over his father's death, his struggle to be masculine and a provider, and his phobia over going to the doctor all made him seem much more approachable and relatable than most romance heroes are allowed to be. Nikole was great too, and I loved her friends and how they all supported each other. The women's self defense gym was also a nice touch, as were the dialogues about empowered physicality and safe spaces.
The only thing I really didn't like about this book was the Big Misunderstanding that happens in the last act. This is pretty typical of most romance novels as a way to amp up the tension, and I kind of wondered if something like this was coming since their relationship was smooth sailing for most of the book. Seeing it coming didn't make me like it any more, though. I can't stand this trope. I was also angry because it made me mad at Nikole for treating Carlos that way, even though it was basically a gender-flip of the "I don't do relationships" men in romance novels who are so frightened by their own burgeoning romantic feelings that they feel like they have to lash out against the love interest.
Overall, though, THE PROPOSAL was really great. I love that there are romance novels coming out featuring diverse characters who
don't
read like cliches. Bar that last act, everyone in here was super likable and relatable and the romance is very modern and respectful. I'd read more by Ms. Guillory.
Thanks to Netgalley/the publisher for the review copy!
3 to 3.5 out of 5 stars