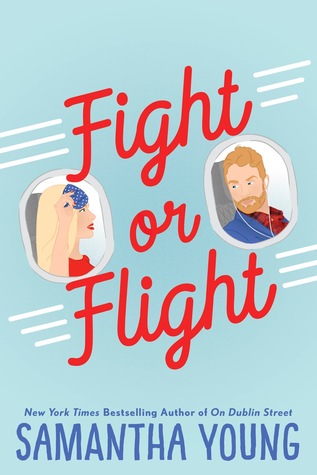 DNF @ 30%
I'm a sucker for enemies to romances and when I heard about this book, I was kind of hoping for something akin to the Mile High Club version of
THE HATING GAME
. Look, we all know that airports suck. Even if everything goes off without a hitch, it's uncomfortable and mildly inconvenient at best. Romances would have us believe that there are bucket-loads of cute guys flying around at any given moment but honestly, the last time a guy bought my drink on a flight, it was from this super nice older guy who was flying home to see his wife after being on a business trip. He was so excited to see his family again and kept talking about his wife. I was with my mom and reminded him of his daughter. (There really are good men in the world.) And the last time I sat next to a cute guy on a plane, I was just coming back from Scotland and had
midge bites
all over my body, so I was trying to get drunk enough to fall asleep so I wouldn't think about the bites during the eight-hour trip. He probably thought I was a tweaker-alcoholic because of how I was knocking back those glasses while fidgeting in my seat. Needless to say, we are not married. So yeah, I was interested in reading this romantic fantasy, to vicariously enjoy this true love at 30,000 feet experience that I have yet to encounter.
FIGHT OR FLIGHT started out sort of promisingly. I thought the misunderstanding with the H and the h seemed a little immature, but I felt the same way about THE HATING GAME and stuck it out, and it grew on me. Not so with D-bag McGee, AKA Caleb Scott, who is actually toxic in how unapologetically #NotAllMen #TreatEmMeanToKeepEmKeen #ImAStudAndUAHoe he is in terms of his overbearingly machismo attitude. The heroine isn't great either, but Caleb was especially awful. Also, their first encounter happens when she's drunk and she even talks about how her inhibitions are lowered and he's like, "How drunk are you?" Like that's due diligence in consent.
I'm not going to finish this one. It was making me too angry. I picked up this book hoping for a good time and instead it decided to neg me with toxic masculinity and cheap playground insults. Thank U, Next!
Thanks to Netgalley/the publisher for the review copy!
1 out of 5 stars