I read LUMINOUS for the first time seven years ago and when I saw that it was available via Kindle Unlimited, I was curious to revisit the story and check it out. LUMINOUS is one of the most unusual and creative fantasy stories that I've read, and even though I forgot some of the details, the concept stuck with me.
Consuela is a Mexican-American girl who is self-conscious in her own skin. One day, she notices a lump on the back of her neck, and in a gross, cringe-worthy scene, digs her fingers into it to peel off her own skin and finds that she can reduce herself down to magical, glowing bones and done the flesh of anything organic-- butterflies, water, fire, feathers, air.
In her other form, Consuela can enter a place called the Flow, an in-between world accessible to only a select few. Everyone she meets there has special powers of their own, which they use to navigate the Flow, but also to return to Earth in the capacity of guardian angels, saving those who are destined for great things from death.
Consuela likes her new skins and her new purpose, but something about the Flow, and its repercussions for her status back on Earth, chills her. Someone is also killing residents of the flow in brutal ways, and if Consuela isn't careful, she might die, as well. And if you die in the Flow, you die in real life...
I thought the story was a really great concept and I liked how
Dia de los Muertos
influenced Consuela's bone form, as well as some of the more magic-realism-y motifs in the story. The language of the book is poetic and lyrical with some truly unusual and memorable writing passages. The other residents of the Flow are also diverse, but some of these characters aren't handled quite as well. I raised my eyebrow at the Chinese guy having math as his superpower and being nicknamed Abacus, and one of the bad characters says that he thought someone who was Ainu had Down's Syndrome-- I guess that's slightly more forgivable since they were a "bad" character with bad thoughts, but still.
In the author's note, the author acknowledges that her story has problems and she would not write it the same way now, and even though she wanted to recirculate her out-of-print book, she took it as an opportunity to learn and grow. Honestly, I think that is the best way to go about books like this. Don't self-censor; acknowledge your mistakes, let your book speak for itself, and then move on to bigger and greater things. I have a lot of respect for that mindset, and it made me like Metcalf more for it.
Word of warning that there are a couple scenes of body horror in here, including that scene in the beginning I just told you about. I was looking through my status updates and apparently it made quite an impression on twenty-three-year-old Nenia back when I first read this in 2013.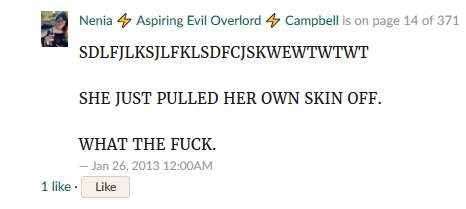 Seven years later and yeah, it's still just as gnarly.
What an unusual and interesting book.
3.5 out of 5 stars