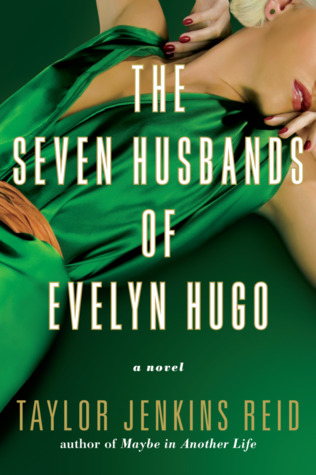 This is the second over-hyped book I've picked up this month that actually pleasantly surprised me (the first one was Holly Black's
THE CRUEL PRINCE
, if you're curious). I'd actually been avoiding THE SEVEN HUSBANDS OF EVELYN HUGO, because it sounded like more of that gently-padded historical fiction I can't stand, where the past ties into the present of some plucky, Pinterest-and-yoga type, who has her uncertain future resolved by some personal revelation of the past (I am looking at you, SECRET HISTORY OF THE PINK CARNATION).
It was only when I saw reviews suggesting that the subject matter contained herein might be darker, and weightier, than I thought, that I decided to bite the bullet and dive in.
My goodness, but this book was not only amazing - it turned out to be just the thing I needed right now. Readable. Suspenseful. A little light, yes, but in no way padded or fluffy. Beneath that attractive cover is a core of jabby metal spikes, and you can say the same of the titular heroine, Evelyn Hugo, who's a cross between Elizabeth Taylor and Marilyn Monroe (with a dash of Merle Oberon),
with all the cunning of a Machiavellian prince
. This is a woman who knows exactly what she wants, and will do anything to get it - and
succeeds
.
The narrator is a multiracial woman named Monique, who works for a Vogue-like magazine called
Vivant
. Monique is just a mid-level reporter, very low on the food-chain, and she's feeling depressed because her husband tried to force her to choose between him and her career - and she's having second guesses about the choice she made and the effects that it will have on her life. Nobody is more surprised than Monique when her editor grumpily tells her that she, and
she alone
, has been offered the rare opportunity for an exclusive interview with the now-reclusive actress. Even more shocking still - when Monique and Evelyn finally meet, Evelyn tells her that the interview was just a ruse: Evelyn doesn't want an op-ed piece, she wants a retrospective, written in the form of a book, and she wants Monique to publish it, and tell her story in the way that she, Evelyn, intends.
There are several "parts" to this novel, each divided by husbands. Evelyn's seven husbands each represent a significant milestone in her life, and it was really incredible how the author managed to make them all different, and yet all realistically flawed. Evelyn also talks about the mysterious "great love of her life" and the way that her sexuality defined her so much in her youth, and how chasing fame ended up leaving her feeling desolate and lonely at the end of her life. In some ways, TSHOEH reminded me of Jacqueline Susann's
VALLEY OF THE DOLLS
in how it provides a grim portrait of the way Hollywood chews up young starlets and spits them out, and the very short shelf-life of the attractiveness of women, and how this superficiality rules the people who chase it and abide by it. I was also reminded of this gorgeous Japanese film I love,
Millennium Actress
(2001), which is about this ordinary but beautiful girl in Japan who becomes a famous and iconic star, and as she makes film after successful film, the scenes from her movies end up serving as mirrors that reflect her pursuit of the one that she imagines that she loves. The actress in
Millennium Actress
also ends up as a recluse, who ends up telling her story to a low-ranked supporter in an exclusive retrospective about her life.
I think what makes TSHOEH really stand out, though, is the seriousness of the content. Sexism in the film industry, and institutionalized sexism, sure. But then there's also the topics of assisted suicide, domestic violence (and the trap of normalizing this abuse while living in this situation), racism, internalized racism, and sexuality. The Stonewall riots are mentioned, and the erasure of bisexuality actually plays a pretty huge role in the story. This is one of the few books I've read that really goes into what it's like being bi, and portrays relationships with people of
both genders
. I also really liked how Monique was half-black and Evelyn was Cuban-American, and how their cultures shaped them.
THE SEVEN HUSBANDS OF EVELYN HUGO is a really good book. The pacing is really well done, and like Monique, I found that this
Interview with the Vampire
-style format kept me coming back for more, because with every question answered, another immediately popped up in its place. Reading this is like reading one of those mildly trashy grand epics of the 70s and 80s that follow one character throughout their life, chronicling their loves, their hubris, and their sorrows. It was a fun, solid read with good characters, and a darned good (if bittersweet) story. You should read it!
4.5 out of 5 stars