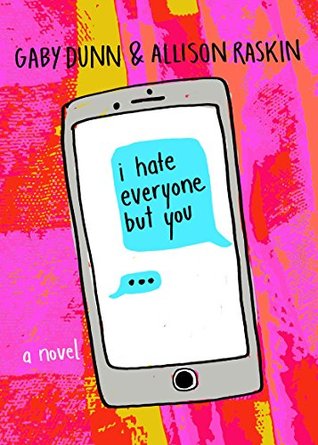 Allison and Gaby were two of my favorite contributors on Buzzfeed and when they left, I followed them both on Twitter. They have forceful personalities, so when I realized that the characters in this book shared the first letter of their authors' names (
A
va to
A
llison and
G
en to
G
aby), I figured that this was probably a sly hint at semi-autobiographical elements.
It's difficult to sum up I HATE EVERYONE BUT YOU because it's told in the 21st century version of epistolary format: emails and instant messaging. Ava and Gen are both freshmen in college, and are determined to keep in contact and continue their friendship despite going to different schools.
Ava is a high-strung perfectionist who is good at school and wants to please everyone around her. She also suffers from depression and anxiety and has the tendency to self-harm. Being away from home makes her very stressed out, and she's so determined to have the correct college experience that she joins a sorority filled with girls she doesn't really like and starts a relationship with a boy who doesn't respect her as much as he should.
Gen, on the other hand, is the poster child for the socially aware millennial. She is a proud feminist, is open about her sexuality and sleeps with many partners because she wants to, and determined to be an ethical journalist by immediately writing an article about one of the faculty's sexual harassment suits for the school paper. She also experiments with cocaine and sleeps with one of her TAs.
The girls are so different from one another, but their conversations feel authentic and real because they bring up a lot of topics that are relevant in this day and age, such as how bisexual people often feel isolated from the gay community
and
the straight community, how people with depression often don't get the support they need from their peers because their peers consider them a "downer," how toxic relationships aren't always obvious, and how being an adult sometimes necessitates making childish mistakes. You know, for the learning experience.
I really enjoyed I HATE EVERYONE BUT YOU. I was mentally reading the emails in Allison's and Gaby's voices, which made these characters feel even more fleshed out. It wasn't always easy reading, even though it's a short book and goes by quickly. I could relate to Ava's shyness and social anxiety, and her fears that someone not writing back = the relationship apocalypse felt totally real. Gen, on the other hand, could sometimes annoy me because I didn't like the way she was constantly policing her friend. I think it's extremely important to reduce ignorance and transphobic/homophobic constructs that are embedded into our society, but I also don't think that the way to do that is by making your friends feel bad about themselves, either. Later on the book, this is addressed, and the two girls talk about the tendency to project your own feelings of inadequacies onto "safe" targets and how sometimes advice given with good intentions can be hurtful (a lesson for Ava and Gen).
I HATE EVERYONE BUT YOU is not for everyone, and I am sure there will be plenty of reviews calling this "SJW bullshit," but controversial and daring subject matter is never received with open arms by all. More importantly, I HATE EVERYONE BUT YOU gives a voice to our newest generation in the same way that CATCHER IN THE RYE and THE PERKS OF BEING A WALLFLOWER did, and this time, it's not about young men - it's about young women. (Yay!)
Thanks to Netgalley/the publisher for the review copy!
3.5 out of 5 stars