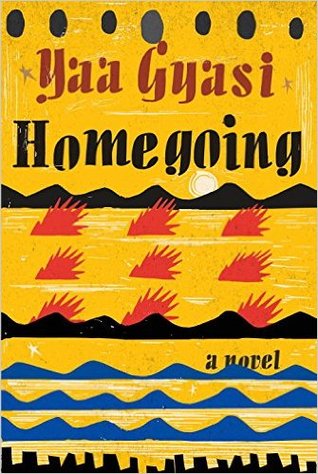 HOMEGOING is an amazing book, but it is not a light read. If you go into this book expecting a light read, you will be very unhappy. HOMEGOING is the history of a Ghanian family spanning the centuries, beginning in the 18th century and ending in the 20th. It begins with two half-sisters, one sold into slavery and the other married to a slaver. Each of their descendants gets a chapter, and the format of the story alternates from one sister's descendant to the other, with each individual character getting their own story that is self-encapsulating but still manages to add to the overall tapestry of the family history as a whole.
I loved the unique format of this book, how it was a family history that grew and became steadily more complex, following the characters along their respective journeys. There were so many heart-in-mouth moments in this book that it gave me relief to know that no matter how bad things got in the story (bad, bad,
terrible
, awful, bad), the main character of each mini-story
had
to survive, if only because the character in every other chapter after theirs would be their descendant. That knowledge made reading this easier, once I figured that out.
Why? Because this book doesn't sugar-coat. Gyasi writes about slavery and injustice in excruciating detail and doesn't hold back when it comes to the infuriating cruelty that people inflicted on their fellow human-beings. Some of the contents broached in this book are rape, sexism, racism, shadism, substance abuse, child abuse, and violence. In many ways, it actually reminded me of another book, KINDRED by Octavia Butler, which is also about slavery. One of my book club members appreciated this book so much that she wanted to read more books on the subject, so I recommended KINDRED to her, because it shares the same themes, the same purpose: that even though we have come far, there is still injustice; but there is also hope, too, in the hands of our children.
Definitely a must-read.
3.5 out of 5 stars