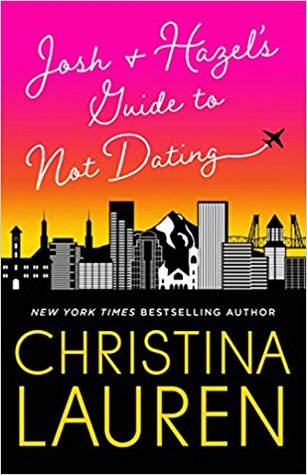 This kind of reads like Christina Lauren took the plot of one of Mariana Zapata's friends-to-lovers (or willful-denial-to-lovers, as I think of them) stories and replaced the heroine with a manic pixie dream girl. Josh Im and Hazel Bradford have known each other since college. Josh comes from a close-knit Korean family, is very conservative and down-to-earth. Hazel, on the other hand, sees nothing wrong with dancing in the middle of a field or deciding to make spur-of-the-moment blueberry pancakes without a recipe book or a mind for neatness. Yes, I pictured her as Zooey Deschanel.
I tried reading BEAUTIFUL BASTARD and thought it was godawful, but JOSH AND HAZEL'S GUIDE TO NOT DATING won me over with its winsome summary. Initially, I was smitten. I thought Josh was cute and even though Hazel's behavior was a bit too
Amelie
for me, I did like the message that men only want manic pixie dream girls that fit into their fantasies - any sorts of other quirkiness or unconventionalism is unwelcome, especially if it threatens their masculinity. So I thought that was a good message and thought that maybe I could stomach Hazel's manic pixie dream girl tendencies if she was allowed to do it on her own terms and
not
for a boy.
The problems come halfway through when Hazel and Josh start setting each other up on hilariously bad blind dates. At first it's funny, because they have a better time with each other and even admit to themselves that they're with the wrong person. But the cycle of denial persists for another
one hundred
pages and then the book introduces a trope that I hate but can't say because it's a spoiler, and this spoiler ends up helping to bring the characters together at the end. It was upsetting to me because this was such an original and quirky romance at first that actually had me laughing out loud, but then the last 100 pages are a miserable experience of two people refusing to sit down and fucking talk.
I'm giving this 3 stars because I think it was a good romance and I do like it, but it loses the 1.5 I was going to give it in the beginning for falling to lazy and trope-ridden lows to end the book instead of taking a more mature (and less cliche) out of the narrative hole it dug itself into.
P.S. There is a child in here whose parents allow them to dress in ways that go against gender norms and I thought that was sweet. That's part of the reason this gets a solid three, and not a 2.5 to 3.
Thanks to Netgalley/the publisher for the review copy!
3 out of 5 stars