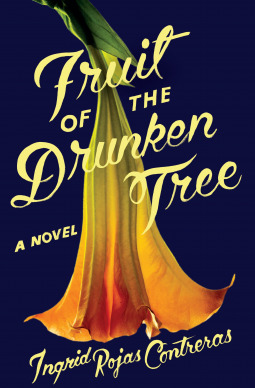 I wonder about Goodreads users sometimes. People will pile on to heap praises about one book in particular while utterly ignoring brilliant contributions to the literary canon like this. I almost didn't read this book because it was such a wild card - and
I am so glad I did not do that
. In many ways, FRUIT OF THE DRUNKEN TREE explores similar themes to other women-centered works of literary fiction like
GIRLS BURN BRIGHTER
or
HOMEGOING
. The book is set in Colombia in the early 1990s, when the cocaine lord Pablo Escobar held most of the political and economic power, and the wealth disparity led many low income individuals to support and encourage the gruesome violence of the
guerillas
.
There are two narrators. Chula, who along with her mother and older sister, is a member of the middle class in Colombia. By our standards, they don't have much, but when people across the city are living in shacks without electricity or running water, they seem very wealthy. The other narrator is Petrona, who is their maid. She lives in one of those shacks, called
invasions
, and is working to support her family in the absence of a real provider.
FRUIT OF THE DRUNKEN TREE, which is another name for the Angel's Trumpet flower, navigates the rocky political landscape of a country ruled by criminals, in a time of great inequality and political upheaval. The author brings up many great points about morality, and how it is easy to claim the high ground when you aren't starving. The people in Petrona's region, and many like it, were failed by the government, so men like Escobar who flashed cash and supplied jobs to boys and young men as runners and para-military, could seem like saviors, even if what they were doing was terrible in the big picture, because of the way he indirectly helped to bolster their economy. Chula's family, on the other hand, can afford to think big picture, and her mother was in favor of the liberal politician and reformist, Luis Carlos Galán, who wanted to end the corruption and drug running.
I really loved this story and thought that the author did a great job giving voice to Chula and Petrona. Both of them were very different girls, from different walks of life, and the author was very careful not to be preachy, or take sides. When Colombia is mentioned in fiction, it's generally portrayed as some grandiose,
Scarface
-esque locale that features glamorized portrayals of crime. This book, on the other hand, is influenced by the author's childhood memories of growing up in
Bogotá during this time and seeing these kidnappings, rebellions, bombings, murders, and criminality firsthand. The focus on the relationship of these girls in the face of adversity was reminiscent of GIRLS BURN BRIGHTER, but this wasn't quite as gruesomely awful as GIRLS BURN BRIGHTER, and in my opinion, has a much happier ending, even if it isn't exactly a gleaming pot of sunshine.
Ingrid Rojas Contreras is clearly an author to watch. I can't wait to see what she puts out next.
Thanks to Netgalley/the publisher for the review copy!
4 to 4.5 out of 5 stars