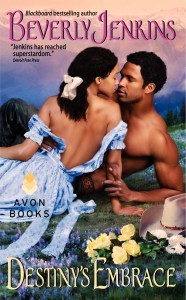 Don't be fooled by the bodice ripper cover & pose. While I adore the genre, and that was what originally made me gravitate towards this book, bodice rippers represent a specific
type
of romance that many may find unpalatable, and suggestive cover aside, this book is definitely
not
a bodice ripper at heart!
Mariah Cooper grew up in Philadelphia with her seamstress mother. Her life has been difficult. She's been bullied for being poor and looking different. Since she was a young girl, her mother has abused her verbally and physically, working her like a slave and insulting her looks and making her feel like she's unworthy of love.
Finally, Mariah can't take any more, and with the help of a sympathetic aunt, she finds herself with a rail pass to a place in California called Destiny Ranch, to answer an advertisement in the classifieds looking for a housekeeper.
Logan Yates is the stepson of the fierce and beautiful Alanza Yates. He's a hard-working rancher, but also a hopeless slob (and a bit of a hoarder, if we're being honest). He's also a devil with the ladies and has absolutely zero intention of settling down. Few women have ever told him no, so he's flabbergasted when Mariah comes in like a whirlwind and immediately begins stirring things up. She's not above lashing him with her tongue or kicking him in the knee if he gives her trouble, either.
DESTINY'S EMBRACE isn't exactly an enemies-to-lovers romance, but many of the same themes are there. It's a reformed rake romance, but with a spirited, resourceful, clever heroine that will appeal to fans of Courtney Milan. Sometimes heroines are given interests that are never mentioned again and I loved that Mariah's sewing was made such an important aspect of her life. She was also a very strong female character and had a great sense of humor. That parade of suitors was, hands-down, my favorite part of the book. I guffawed.
As much as I liked Mariah, my favorite character in this book would have to be Alanza. She was so cool. I kind of hope that the author writes a prequel about her and her two husbands, because she was such a strong woman, and I loved her relationship with her three sons, and how that translated to a willingness to accept Mariah as a surrogate daughter as well. She had a lot of love to give, that was obvious. I loved the interactions between the five of them on the ranch.
The California setting was also really great, because I've actually been in Yolo County many times, and I have seen the orchards it described so beautifully.
I learned something new
about the potential origin of my home state's name, too! Apparently, it is named after a mythical island of kick-ass black Amazons who had battle-trained griffins. If that isn't the OG of origin stories, I don't know what is.
I did have a few nitpicky issues. I thought Mariah gave into Logan too quickly, especially considering what happened to her mother. She had held steadfastly to her principles until that point, and it felt really out of character to me. I also thought that the climax between her mother and Tillerman was a bit abrupt. I was expecting more drama, I guess. Her mother was such a horrible person...maybe I've been reading too many bodice rippers with vindictive revenge schemes, but it
felt
like Mariah's mother got off way too easily. Also, the sex scenes could be pretty cringeworthy. At one point in the narrative, Mariah's breasts are referred to, unironically, as "the twins." *cringe*
Overall, DESTINY'S EMBRACE was a really great book. I really think fans of Courtney Milan should read Beverly Jenkins. Not only are their writing styles similar, and their heroines both full of spirit, but they both try to provide non-white perspectives in historical romance, which is something the romance genre
definitely
needs more of. I can't wait to read more of Jenkins' work!
3.5 to 4 out of 5 stars!