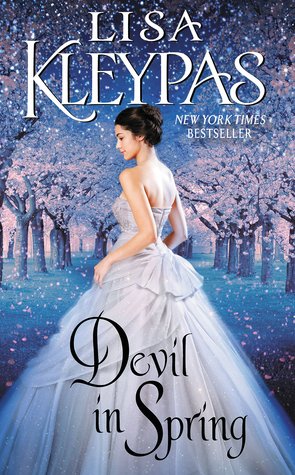 I read this book for the
Unapologetic Romance Readers
' New Years 2017 Reading Challenge. For more info about what this is,
click here
.
While Lisa Kleypas's Gamblers duology will always be my first love, I'm slowly working my way through her other series. Specifically the Ravenels and the Wallflowers series at the moment (which is maybe an odd choice of series to read concurrently, seeing as how the Wallflowers are prequels to the Ravenels). I recently read
DEVIL IN WINTER
, which is frequently lauded as Kleypas's best work (have they
not
read the Gamblers?), and while I didn't really agree with Sebastian St. Vincent's portrayal as a debauching rake, I could definitely see the appeal of his romance with Evie. So far, DEVIL is my favorite book in the Wallflowers series.
You can imagine how palpable my excitement was, then, when I found out that Kleypas was writing a book called DEVIL IN SPRING which was about - gasp - Sebastian and Evie's son, the "cynical rake": Gabriel St. Vincent...
...That was, until I realized who his romantic pairing would be. Pandora, the odiously affected and annoying Ravenel cousin-in-law from
COLD-HEARTED RAKE
. In fact, I specifically called Cassandra and Pandora out as something that detracted from the rating because they were so immature. At nineteen, they acted more like six with their making up words and playing games.
But DEVIL IN SPRING took place two years later. Maybe the twins would mature.
...NOPE...
It kills me,
kills me
, to give Lisa Kleypas books low ratings. I've done it before, twice, in the cases of
ONLY WITH YOUR LOVE
and
SOMEWHERE I'LL FIND YOU
, which I rated one and two stars respectively. Not because of the writing (Kleypas always writes beautifully - something I adore her for) but because of some very bad characterization. In the case of ONLY WITH YOUR LOVE, it was because of dubious consent on the hero's part that I felt was addressed very badly. In the case of SOMEWHERE I'LL FIND YOU, it was because I thought the hero was emotionally abusive. But both those books are published in the early 90s, when Kleypas was still finding her trademark style.
DEVIL IN SPRING does not have that excuse.
**WARNING: SPOILERS TO FOLLOW**
Pandora is an immature, childish heroine who makes up words and fairy tale stories, and at one point, demands to fire her footman because he does not look like Father Christmas. She encounters the hero when she's stuck ass-out in a settee, and when Lord Gabriel decides to rescue her in a moment of ill-placed pity, they are caught and considered compromised, and must be married at once.
Pandora does not want to be married because she wants to start her own business and doesn't want to obey anyone, but both her family and Gabriel manage to convince her to visit Gabriel's family estate with promises that she will not be coerced into marriage. Everybody finds her manic pixie dream girl act utterly charming and Gabriel decides he loves her instantly and casts his mistress off into the dirt.
Will we be seeing her again later? Oh, ho ho. You cheeky, cheeky person.
Pandora discovers that she's great at sex and great and crying and does both these things in abundance while crying how she will obey no one, not even her husband. Smitten Gabriel falls over himself granting concession after concession, but it's never enough. She fights him at every turn, even when they're married 2/3 of the way through the book. What's the last 1/3 about, then?
Lisa Kleypas's other trademark: superfluous murder mysteries. I honestly don't know why she does this, but almost all of her stories that I've read have a very lame murder mystery thrown into the last act. It's always obvious who the guilty person is, and never seems to serve any purpose beyond putting either the hero or heroine in jeopardy to show how much the other person loves them and padding out the plot. The first time, I was like, "Okay, I can deal." But now it's becoming a theme...
Somehow, Pandora manages to get in a jab at her husband for saving her life, accusing him of controlling her. I was already done by that point, but that was the done straw that broke the done camel's back. After that, I was done with being done. I was DONE².
Gabriel, on the other hand, was merely okay. The sex scenes with him were decent and sexy, but not particularly noteworthy. In the beginning of the book, Gabriel frets over being married to a virginal girl because his mistress was the only one capable of satisfying his odd desires. Spoiler alert: Gabriel's apparently into light bondage and you will get one scene where he ties Pandora's hands behind her back with the laces of a corset. After that, it's never mentioned again.
I'm really not sure why he's blurbed as a "cynical rake", unless rake = having a mistress and being into bondage. Honestly, when I picture "rake" I think of someone who actually involves in some pretty questionable behavior, and not some upstanding, golden-haired gent who keeps his few affairs discreet and occasionally engages in a bit of rough sex and cards. His father, Sebastian St. Vincent, wasn't really a rake either, but at least he displayed some morally objectionable behavior.
DEVIL IN SPRING was a disappointing read for me. I enjoyed reading it with the Unapologetic Romance Readers for our March 2017 read, but apart from that, there was little to redeem it. I see that the next book in the series is Dr. Gibson's book and Cassandra's story is probably going to follow that. I'm going to give this series a few more shots to impress me, and then I'm folding.
P.S. Some required rakish reading for those who love
real
rakes.
RUTHLESS
by Anne Stuart
DUKE OF SIN
by Elizabeth Hoyt
If you know of other books, with real rakes, let me know. I love collecting them!
2 to 2.5 out of 5 stars