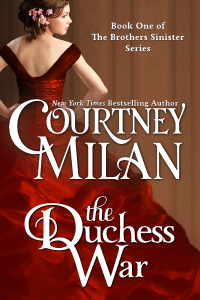 Buddy read with the
Unapologetic Romance Readers
!
Courtney Milan is quickly becoming one of my favorite historical romance authors - maybe even rivaling that spot in my heart reserved for Lisa Kleypas (sorry, Lisa!).
One of the things I love about Milan's books are her sexy beta heroes and her incredibly intelligent heroines. THE DUCHESS WAR is no exception. Robert and Minnie meet for the first time while hiding in a parlor at a party. Robert is hiding because he is ashamed of his abusive father's legacy and the obligations and
noblesse oblige
of his dukedom. Minnie is hiding because she has a terrible secret in her past and is on the brink of marrying a man who appreciates her only because he thinks that she won't pitch a fuss.
Neither is what they seem.
THE DUCHESS WAR is slow to start because the hero and the heroine take a while to fall in love. They fall in lust first, which in turn is partially based on an appreciation of one another's uniquely unconventional qualities. As a chess player myself, I thought it was incredibly cool that Minnie played, and I also liked how Robert was so determined to do the right thing, even when he went about it (in his well-meaning arrogance) in the wrong way.
There is some drahma, because this wouldn't be historical-romance if there were no drahma and misunderstandings, but it's not on a scale of Julia Quinn's, which tend to have the reader screaming, "Why won't they just fucking talk to each other?" Robert has a lot of pain and suffering in his past, and he's learned to deal with it by repressing the subject. Minnie, on the other hand, goes to great length to avoid it, even though it's starting to bubble up with increasing regularity. The good news is that the drahma isn't spun out for the sake of extending page length. Miscommunication
is
discussed, and so are the reasons for why it occurred in the first place, which is healthy, and which I appreciated.
I also liked the sex scenes in this book. It was the hero who was more inexperienced in this instance, and when their first romantic encounter proves unsatisfactory, Minnie actually
shows
him how to please her. The only other book I can recall that happening in was a short by Tiffany Reisz.
I think Jess
said it best
: Robert is the bae.
3.5 out of 5 stars.