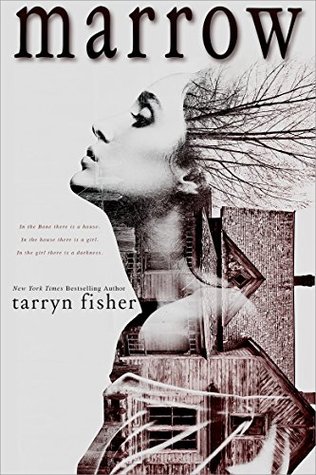 🌟 I read this for the Yule Bingo Challenge, for the category of
Snape: morally grey character
. For more info on this challenge,
click here
. 🌟
Lots of authors want to write "dark" and "gritty," but few have the muscle to pull it off. Not Tarryn Fisher. Ever since reading
MUD VEIN
, I've found myself pleasantly surprised by her wide cast of flawed characters and intricately plotted stories. MUD VEIN had some weaknesses, in that it was trying
too
hard to be twisty and suspenseful to the point where one had to suspend one's disbelief, but the ride was thrilling and beguiling. I wanted to read more.
Like MUD VEIN, MARROW is also built around suspense and features a heroine who is not very likable but is also highly sympathetic. Margo is a girl who lives in a low-income suburb in Seattle called "the Bone." Many of the people there are involved in petty crime of some form or another. They're the types of people who slip through the cracks, who don't report crimes because the deck is stacked against them.
Margo's mother is a prostitute and resents her existence. The two of them live in a house that Margo calls "the eating house" - because it's devouring her slowly, I guess. We follow her from young girl to young woman, and as she gets older, she becomes more and more aware of the injustices that occur in the Bone, and it slowly makes her angrier and angrier - until she loses it, and decides to take matters into her own hands. Her journey is utterly fascinating. I haven't been this engrossed by a heroine since Gillian Flynn's GONE GIRL. It's got that same sort of "descent" if you know what I mean.
MARROW is definitely not for the faint of heart, but if you enjoy dark stories and tales of suspense, with anti-heroes and revenge, this will be a good story for you. It reminded me of Caroline Kepnes's YOU and Jeff Lindsay's DARKLY DREAMING DEXTER in many ways, and I think there's a lot of crossover appeal for readers who enjoyed those stories. It has that same sense of morality play meets procedural drama. I can't wait to read the rest of this author's books.
P.S. Characters from MUD VEIN appear in this book. I picked up on some of the clues early on and wasn't sure if it was meant to be a sneaky Easter Egg - but it was! And then it turned into a full-on
cameo
. I was so excited, I literally bounced in my chair. I love it when authors do this.
4.5 out of 5 stars