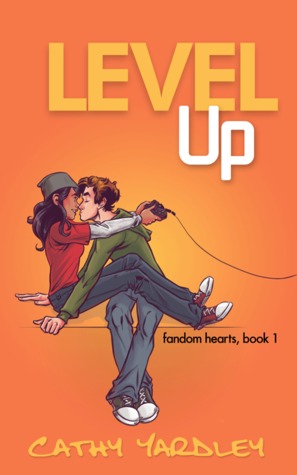 🌟 I read this for the Yule Bingo Challenge, for the category of
Butter-Beer: a sweet book
. For more info on this challenge,
click here
. 🌟
I'm taking advantage of the holiday break to clean out my Kindle, and LEVEL UP has been a book I've been wanting to read for a while. Not only did it come highly recommended by my friend
sraxe
, it also features a STEM heroine of color and an adorable romance based on mutual respect and not "dat ass."
I know, right? How
refreshing
.
Tessa is a shy, socially anxious young woman who works at a gaming company. She would like to advance but isn't quite sure how. Her roommate, Adam, works at the same company, and when she lets him know that she's angling for a newly available position, she gets him to agree to put in a good word if she can prove herself.
The chance comes when she rescues Adam after a highly unsuccessful attempt to ask a girl (Stacy) out. Stacy and Tessa end up bonding over geek culture and Stacy invites her over to meet some of her friends. Tessa finds out that they own a brick-and-mortar bookstore that isn't doing to well, and comes up with the idea to code a game for a popular fandom contest for publicity.
I really loved the emphasis on coding and geek culture. Yardley also shows, without being
too
depressing, how the all-male environment can sometimes result in a misogynistic culture (think "brogrammers") and how women often have to prove themselves twice as hard. Tessa has to fight for recognition, and even when she succeeds, she sometimes has to sacrifice her pride.
The relationship between Adam and Tessa is really well done. It's fully consensual, and progresses as a normal relationship would - slowly, tentatively, with lots of talking and discussing and just
hanging out
. I don't think enough romance novels show couples just hanging out and having fun.
I was afraid for a moment that the ending was going to do something annoying, but what I was afraid was going to happen
didn't
happen. Tessa manages to accomplish her dream, and doesn't have to sacrifice her relationship (or vice-versa); I really hate when women are forced to
choose
. LEVEL UP is a really cute, light romance that hits the spot when you can't stand the patriarchy anymore. ;-)
3 to 3.5 out of 5 stars